My Brother's Ashes, the Bayou, and an Egnimatic Life

2023
Texas Monthly

Art Direction
Kimberly Thwaits
Agency
The Jacky Winter Group



A little piece to accompany Geoffrey Leavenworth's lovely, personal essay for Texas Monthly.
Leavenworth discusses the surprising family secrets he learned as he wrapped up his brother's affairs and went on a quest to scatter his ashes in Texas's Dickinson Bayou.

The Patchwork Rabbit

2023
The Sydney Lunar Festival,
The City of Sydney


Adjoining Koreatown
Situated on Liverpool Street,
between Sussex Street and Castlereagh Street.






The artwork draws inspiration from 'jogakbo', 조각보, a style of traditional Korean bojagi cloth-making, and uses a collage of paper textures to quilt a patchwork of rabbits.

The artwork highlights the patchwork of families, friends, communities and cultures that had pieced together a colourful and multifaceted celebration during Lunar New Year in Australia. It is also a small reflection of my celebration during Lunar New Year in Australia as an Australian born Chinese living in a Korean household.

Photos by Jeonghoon Lim.
Old Spaces

Ongoing

Old Spaces is a personal GIF project that documents spaces in mostly Sydney, Australia during the 1950's - 2000's. The aim of the project is to unearth local history and re-animate the forgotten stories attached to these urban sites as moving images.

The project is inspired by the recent development boom in Sydney with replacement of historical buildings for high-rise apartments. As such, I personally felt the need to preserve an essence of it's history through my work.
Some animated stories include the iconic neon advertising signs on William Street in the 1960's and the construction of Kings Cross tunnel, the first major tunnel in Sydney.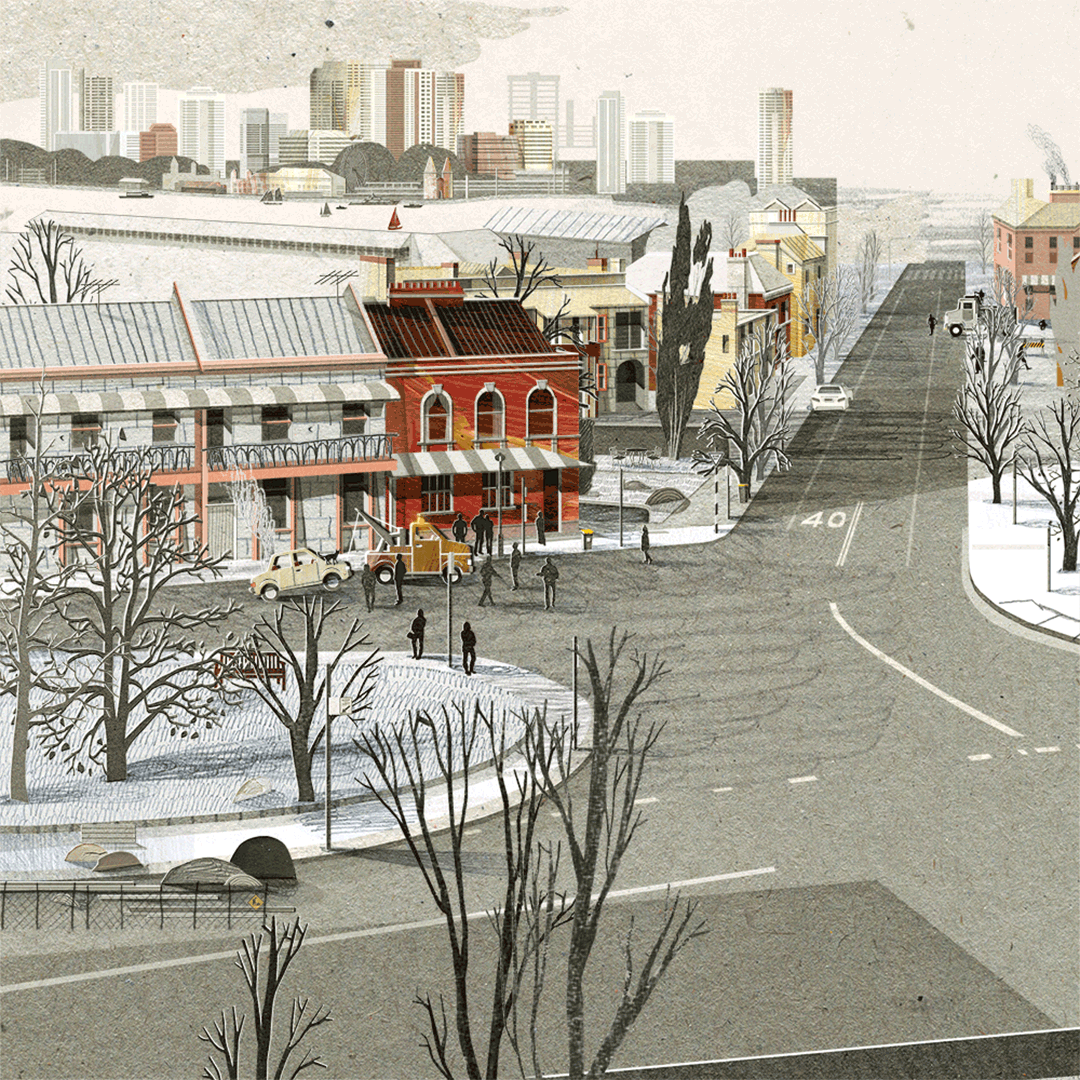 Family Murmurings

2022
Museum of Chinese Australian History


Team
Kenneth Chan, Angela Buckingham, Oliver Clifton
Agency
The Jacky Winter Group











A collaboration inspired by the stories written by Ken Chan of growing up as an Australian Chinese in the 1950s and 1960s. It focuses on the ups and downs of one community, concentrating on one extended family.
It presents as an exhibtion with the artworks drawn together into a virtual reality reel, allowing viewers to explore memory, community, and belonging.

Family Murmurings is an acknowledgement that the Australian Chinese community is diverse, with people whose families have been in Australia for generations and people who have just immigrated. It looks at the cultural relationship with the broader Australian community, through the prism of individual relationships. It is both a historical reference and a personal statement about our past.

- Museum of Chinese Australian History


---
This project has been assisted by the Australian Government through the Australia Council, its arts funding and advisory body, supported by the City of Melbourne Arts Grants, and the Chinese Museum.
---
Riddles 中秋花盛开

2022
The Museum of Chinese
Australian History

Artwork created to accompany Riddles for Mid-Autumn Festival at

The Museum of Chinese Australian History

, Melbourne.
They can be purchased @

The Chinese Museum Shop

.
Fine art giclee print on cotton rag, 1100mm x 200mm, 2022.
Snaps courtesy Ben Qin - thank you ︎!